City Survival Gardening Guide
The last few decades have seen unprecedented interest in farming and gardening techniques centered around self-sufficiency and survival. The organic foods movement, and other recent trends, reflect an increasing interest in the quality and growing conditions of the food we depend on. Whether motivated by necessity, or by a desire to create the highest quality possible food, many people are responding with creative, space-saving techniques to promote their own self-sufficiency.



Survival Gardening Guide
GROWING NOTES
The challenges to self-sufficiency are considerable. By one estimate, the average person requires more than 450 pounds of vegetables, 365 pounds of fruit, 250 pounds of grains, and 150 pounds of meat or similar source of protein. Such quantities present a significant challenge to the vast majority of growers. In addition to the physical resources necessary for such an endeavor, growing on such a scale requires considerable know-how. Becoming self-sufficient is likely to be a gradual process of careful observation and execution. Such a movement will likely require several years of diligent persistence, gradually taking on more and more along the path to independence.

Establishing self-sufficiency, whether in an urban or rural setting, is undoubtedly enhanced by cooperation and creativity. Forming relationships and trading with other growers is one way to maximize yields. From an efficiency perspective, it makes more sense to focus on just a few crops rather than the wide array encompassed in a typical diet. By focusing on fewer crops and establishing communication with other growers in your area, cross-pollination can also be minimized to help ensure varietal integrity from saved seed.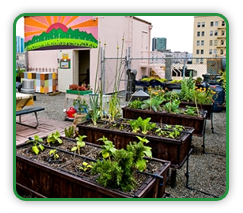 By the year 2030, nearly half the worlds population will be living in urban areas. With the increasing costs of food and transportation, many are looking for any means possible to provide for themselves. While large scale agricultural practices simply are not possible, a number of techniques designed for efficiency and convenience are available to urban farmers. Container gardens on rooftops and and balconies, hanging baskets of edibles, and miniature indoor gardens near windows can all help to transform just about any urban environment into an urban self-sufficiency garden.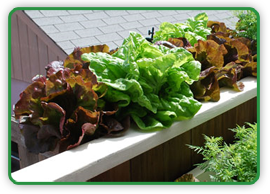 Due to their relatively low requirements and quick time to harvest, growing greens makes good sense to urban farmers and others with limited space and soil. Full-sized greens often require less light and maintenance than root or fruiting-type crops. Other types of greens , such as microgreens or baby greens are ready to harvest within weeks of sowing. Sprouts are the quickest way to generate versatile, fresh food but are somewhat limited in nutritional content relative to other crops. With care and planning, more traditional crops can be grown in urban environments, including tomatoes and root vegetables.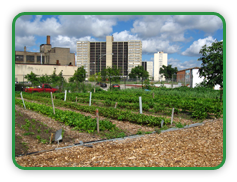 As with all urban gardening, the major obstacles are likely to come limited space, soil and sunlight. Space can be maximized by vertical growing with climbing vegetables like pole beans, climbing gourds and even grapes in certain climates. Hanging baskets with cherry tomatoes, strawberries, or other crops help to conserve available floor space for conventional container gardens. Make the most of available natural light by maximizing southern exposure (in the northern hemisphere). Reflective surfaces can also be used both indoors and outdoors if needed. Artificial light is another option, though significantly more time is needed to achieve the same results as natural sunlight, perhaps three times as much.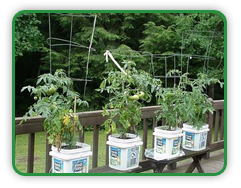 The urban farmer seeking greater independence may well have to look beyond their own home in their quest for self-sufficiency. Community gardens are one way to augment your resources, and establish connections with other growers. Additionally, makeshift greenhouses constructed on open lots or other available space can add tremendous gains to your harvest.