How to Grow Scallions | Guide to Growing Scallions
| | |
| --- | --- |
| Overview | |

Whether harvested early for scallions (green onions), for summer meals, or winter storage, onions need rich, well-drained soil and good weed control. Tightly spaced green onions fit well in ornamental plantings.

| | |
| --- | --- |
| | Seeds or Seedlings |

| | |
| --- | --- |
| | 4 to 5 days, 45F to 85F |

| | |
| --- | --- |
| | 1 year |

| | |
| --- | --- |
| | Well Drained, High Fertility |

| | |
| --- | --- |
| | Full Sun |

| | |
| --- | --- |
| | 1/2" apart |

| | |
| --- | --- |
| | 3" to 4" apart |

| | |
| --- | --- |
| | 90 to 120 |

Growing Guide
GROWING NOTES
Well-drained, rich soil, high in organic matter, neutral pH. Optimum pH is 6.2 to 6.8. Requires plentiful, even moisture for good yields.

Biennial grown as annual.

Easy if you have rich well-drained soil and good weed control.

Usually does not flower unless grown from sets that are too large (more than ½ to ¾ inches in diameter), or young plants (direct seeded or transplanted) are stressed by abnormally cold weather.

MAINTAINING
Can be direct-seeded, grown from transplants started inside, or from sets -- small bulbs about ½-inch in diameter grown from seed the previous season.

Choose a weed-free, well-drained location. Raised beds are ideal. Onions are good for intercropping with other garden plants, especially early-maturing spring greens. Do not plant where other onion family crops have been grown in the past 3 years.

Direct-seeding in the garden may not allow enough time for long-season varieties to mature, but is fine for shorter-season varieties or for scallions - onions harvested before the bulb forms.

Direct-seed in spring when the soil reaches 50 F. Plant seed ¼ inch deep, ½ inch apart, in rows 12 to 18 inches apart. Thin to 4-inch spacings for large bulbs, 2-inch spacings for smaller bulbs but higher yields, or 1-inch spacings for scallions.

Start transplants inside about 8 to 10 weeks before last frost date. Plant 4 or 5 seeds in each cell, or seed in flats ¼ inch deep and ½ inch apart. If tops grow too tall and begin to droop, trim back to about 3 inches tall with scissors. After hardening off, transplant 2 to 4 weeks before last frost date. Space 4 inches apart for large bulbs, 2 inches apart for smaller bulbs, or 1 inch apart for scallions.

From sets: Choose bulbs no larger than ¾ inch in diameter. Large bulbs are more prone to bolting. Plant sets about 1 inch deep 2 to 4 weeks before last frost date. Space 4 inches apart for large bulbs or 2 inches apart for smaller bulbs.

Onions have shallow root systems and need consistent moisture and good weed control. Water weekly if weather is dry, and mulch to retain moisture and suppress weeds.



Heirloom seeds are the gardeners choice for seed-saving from year-to-year. Learning to save seeds is easy and fun with these books. Before you harvest, consider which varieties you might want to save seeds from so that your harvesting practice includes plants chosen for seed saving. Be sure to check out our newest seed packs, available now from Heirloom Organics. The Super Food Garden is the most nutrient dense garden you can build and everything you need is right here in one pack. The Genesis Garden s a very popular Bible Garden collection. The Three Sisters Garden was the first example of companion planting in Native American culture. See all of our brand-new seed pack offerings in our store.

Harvesting Guide
HARVESTING
Harvest scallions, or green onions, when the tops are about 6 inches tall. The younger they are the milder their flavor will be.

Harvest mature onions when their tops turn yellow and begin to topple.

Loosen the soil around each bulb and pull or dig it up carefully; damaged onions rot quickly.

Spread the bulbs - tops intact - on a flat surface above the ground and leave them until the skins are dry and the tops have withered completely (2 to 10 days outside; roughly two weeks indoors in a well-ventilated spot).

Cut off the tops, leaving about an inch of stem, and store the bulbs in mesh bags in a place that's cool (35 to 40 degrees F), dry and well-ventilated.

Check your stash frequently; if any bulbs have sprouted, use them right away.

SAVING SEEDS
Save seed only from open-pollinated plants. Plants that pollinate naturally without special manipulation are called open pollinated. Open-pollinated plants produce true-to-type seed--meaning their seedlings are like their parents.

Open pollinated varieties are the result of the repeated natural selection of superior plants from the same strain or variety. Open-pollinated plants are essentially identical genetically through natural selection and pollination.



You can find this variety in the following Seed Packs: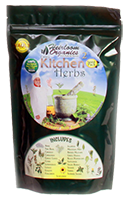 Click the packs below to see some of our other wonderful products