How to Grow Parsley | Guide to Growing Parsley
| | |
| --- | --- |
| Overview | |

Parsley deserves recognition for more than its role as a garnish. It's rich vitamins A and C, a good source of iron, and freshens your breath, to boot! Parsley is a key ingredient in tabouli, and compliments sauces, stuffing, fish, and poultry dishes.

| | |
| --- | --- |
| | Direct |

| | |
| --- | --- |
| | 21 Days 70f |

| | |
| --- | --- |
| | 1-2 Years |

| | |
| --- | --- |
| | Rich, Moist |

| | |
| --- | --- |
| | Full Sun, Part Shade |

| | |
| --- | --- |
| | 6" - 10" apart |

| | |
| --- | --- |
| | 75 Days |

Growing Guide
GROWING NOTES
Biennial Plant.

Likes full sun or part shade.

Prefers rich, moist soil.

Slow-sprouting seed.

MAINTAINING
Although parsley is a biennial, it's best to start new plants each year because the leaf flavor is not as good in the second season. To hasten germination of this slow-sprouting seed, pour warm water over seeds and let them stand overnight before planting. Sow seed in individual pots indoors or plant them outside in the garden. Parsley is very hardy: You can direct-sow seeds 2 to 3 weeks before the last spring frost. (If you sow seeds directly in the garden, keep the area as weed-free as possible so the tiny, slow-growing seedlings don't have to compete with a jungle when they sprout.)

Plants do well in sun or partial shade, and prefer a rich, moist soil. Thin plants to stand 6 to 10 inches apart, and provide an even supply of water all summer. In some regions, caterpillars such as cabbage looper and black swallowtail larvae may take up residence and nibble on plants.



Heirloom seeds are the gardeners choice for seed-saving from year-to-year. Learning to save seeds is easy and fun with these books. Before you harvest, consider which varieties you might want to save seeds from so that your harvesting practice includes plants chosen for seed saving. Be sure to check out our newest seed packs, available now from Heirloom Organics. The Super Food Garden is the most nutrient dense garden you can build and everything you need is right here in one pack. The Genesis Garden s a very popular Bible Garden collection. The Three Sisters Garden was the first example of companion planting in Native American culture. See all of our brand-new seed pack offerings in our store.

Harvesting Guide
HARVESTING
To harvest, cut entire leaves from the outer edge of the plant as you need them. At season's end, you can cut the entire plant for storage. To dry parsley, tie stems together and hang them in a shady, warm, well-ventilated area.

Once thoroughly dried, crumble the parsley and store it in an airtight container. To freeze, remove leaves from stems, rinse, and pat them dry before placing in a zippered freezer bag.

To keep fresh parsley crisp and flavorful, place stalks in a glass of water and store it in the refrigerator. In cold regions, pot a few plants in the fall to place in a sunny window. Though you won't get a large yield, you will have some fresh, tangy sprigs to remind you of summer!
SAVING SEEDS
To save parsley seed, overwinter at least two or three plants. In warmer areas mulch heavily with straw or cover plants with a frame, elsewhere grow a few plants in a polytunnel or greenhouse. The next spring, the plants will start to flower and produce seed. Flat and curly leaved varieties will cross, as the flowers are insect pollinated, so you should only grow one type for seed at a time. Harvest the seeds from individual flowerheads as they dry and turn brown, as they tend to drop from the plant when ready.

You can find this variety in the following Seed Packs: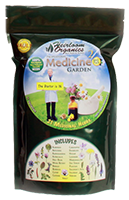 Click the packs below to see some of our other wonderful products