How to Grow Oats | Guide to Growing Oats
| | |
| --- | --- |
| Overview | |

Oats have numerous uses in food; most commonly, they are rolled or crushed into oatmeal, or ground into fine oat flour. Oatmeal is chiefly eaten as porridge, but may also be used in a variety of baked goods, such as oatcakes, oatmeal cookies, and oat bread. Oats are also an ingredient in many cold cereals, in particular muesli and granola. Oats may also be consumed raw, and cookies with raw oats are becoming popular.

Oats are also occasionally used in several different drinks. In Britain, it is used for brewing beer. Oatmeal stout is one variety brewed using a percentage of oats for the wort. The more rarely used Oat Malt is produced by the Thomas Fawcett & Sons Maltings and was used in the Maclay Oat Malt Stout before Maclay ceased independent brewing operations. A cold, sweet drink made of ground oats and milk is a popular refreshment throughout Latin America. Oatmeal caudle, made of ale and oatmeal with spices was a traditional British drink and a favorite of Oliver Cromwell.

In Scotland a dish called Sowans was made by soaking the husks from oats for a week so that the fine, floury part of the meal remained as sediment to be strained off, boiled and eaten (Gauldie 1981). Oats are also widely used there as a thickener in soups, as barley or rice might be used in other countries.

Oats are also commonly used as feed for horses - as plain whole or rolled oats or as part of a blended food pellet. Cattle are also fed oats, either whole, or ground into a coarse flour using a roller mill, burr mill, or hammer mill.
Oat straw is prized by cattle and horse producers as bedding, due to its soft, relatively dust-free, and absorbent nature. The straw can also be used for making corn dollies. Tied in a muslin bag, oat straw was used to soften bath-water.

Oat extract can also be used to soothe skin conditions, e.g. skin lotions. It is the principal ingredient for the Aveeno line of products.

Growing grains is easy and fun! Buy heirloom grain seeds here and start today! See our complete grain growing guide here. Did you know that most grains can be sprouted for high-nutrient super-foods? Try our sprouts packs here with the 3-Day Independence Sprouts Pack. Getting cabin fever? Can't wait to get to that Spring gardening? Grow indoors right now with the Complete Micro Greens Growing Kit or the Micro Greens Seed Pack. Have a high nutrient vegetable garden on your windowsill this week!

| | |
| --- | --- |
| | Direct |

| | |
| --- | --- |
| | 5° and 25°C |

| | |
| --- | --- |
| | 2 Years |

| | |
| --- | --- |
| | Well Drained |

| | |
| --- | --- |
| | Partial |

| | |
| --- | --- |
| | 25-30cm |

| | |
| --- | --- |
| | 25-60cm |

| | |
| --- | --- |
| | 45 Days |

Growing Guide
GROWING NOTES
Seeds should be grown outdoors, sow the seeds of wild oats at a depth of 6mm at the beginning to middle of spring. Seedlings of wild oats can be purchased; annual varieties should be planted in the early spring, whereas perennial varieties can be planted either in the early spring or in autumn.
Depending on the variety wild oats seedlings should be planted 25 to 30cm apart (small) or 45 to 60cm apart (larger varieties of oat). They should be planted in an area that receives full sunlight in a dry soil with a pH of 6 to 7.5.
MAINTAINING
Keep the ground moist to allow the seeds to germinate. Continue to do so as the plants begin to grow. The compost or manure should help the oats retain moisture, but it will be necessary to water them periodically whenever the soil begins to dry out. If the area you live in gets plenty of rain, however, you may not need to water your oats at all.


Heirloom seeds are the gardeners choice for seed-saving from year-to-year. Learning to save seeds is easy and fun with these books. Before you harvest, consider which varieties you might want to save seeds from so that your harvesting practice includes plants chosen for seed saving. Be sure to check out our newest seed packs, available now from Heirloom Organics. The Super Food Garden is the most nutrient dense garden you can build and everything you need is right here in one pack. The Genesis Garden s a very popular Bible Garden collection. The Three Sisters Garden was the first example of companion planting in Native American culture. See all of our brand-new seed pack offerings in our store.

Harvesting Guide
HARVESTING
Modern harvest technique is a matter of available equipment, local tradition, and priorities. Farmers seeking the highest yield from their crop time their harvest so that the kernels have reached 35% moisture, or when the greenest kernels are just turning cream-color. They then harvest by swathing, cutting the plants at about 10 cm (4 inches) above ground, and putting the swathed plants into windrows with the grain all oriented the same way. They leave the windrows to dry in the sun for several days before combining them using a pickup header. Finally, they bale the straw.

Oats can also be left standing until completely ripe and then combined with a grain head. This will lead to greater field losses as the grain falls from the heads and to harvesting losses as the grain is threshed out by the reel. Without a draper head, there will also be somewhat more age to the straw since it will not be properly oriented as it enters the throat of the combine. Overall yield loss is 10–15% compared to proper swathing.

Historical harvest methods involved cutting with a scythe or sickle, and threshing under the feet of cattle. Late 19th and early 20th century harvesting was performed using a binder. Oats were gathered into shocks and then collected and run through a stationary threshing machine.

SAVING SEEDS
Seed collection is very easy. Wait for the seed clusters to turn brown and strip them from the plant. Allow them to dry on a plate for a few days and either crumble or pick apart the seed heads to separate the seeds. Allow the separated seeds to dry a few more days before packing.

You can find this variety in the following Seed Packs: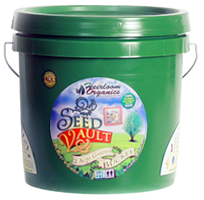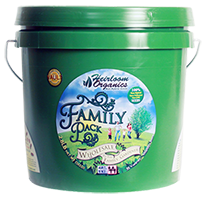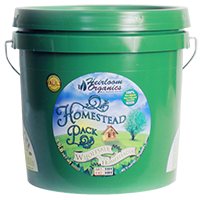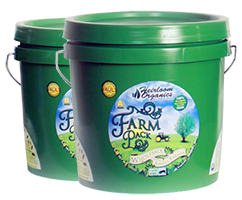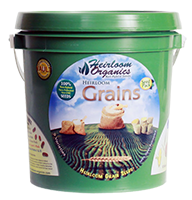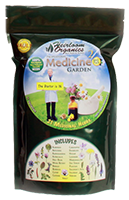 Click the packs below to see some of our other wonderful products