How to Grow Lovage | Guide to Growing Lovage
| | |
| --- | --- |
| Overview | |

Also known as love parsley, Lovage is a hardy perennial herb has an odor and taste that are often compared to parsley and celery. Nearly every part of this plant has found some culinary application over the centuries. The leafstalks are most commonly is the stalk which is often used interchangeably for celery. Additionally, the leaves can be added to soups, stews and other vegetable dishes while the root is sometimes grated and added to salads, icings, syrups and other concoctions. Lovage is also noted for its high content of quercetin, a plant flavanoid believed to have strong anti-inflammatory and antioxidant properties.

| | |
| --- | --- |
| | Perennial (zones 4-8) |

| | |
| --- | --- |
| | 10-21 days |

| | |
| --- | --- |
| | 2 years |

| | |
| --- | --- |
| | Well-drained, rich, moist |

| | |
| --- | --- |
| | Partial shade |

| | |
| --- | --- |
| | Leaf, stem, root, seeds |

| | |
| --- | --- |
| | 20-24" apart |

| | |
| --- | --- |
| | 90 days |

Growing Guide
GROWING NOTES
Lovage will grow to nearly 6' tall and yield copious quantities of flavorful, compound-type leaves.

Lovage can be direct sown in late fall in zones with a long growing season, or started indoors or in a greenhouse approximately 6 weeks prior to the final frost of the spring. Sow approximately 1/2" beneath the surface of the soil. Keep well moistened, and moderate water slightly once starts begin to break through surface of soil.

Lovage prefers partial or filtered shade, and fertile, well-drained soil that is rich in compost and nutrients. Keep soil moist.

MAINTAINING
Tranplant outdoors once plant has reached a height of approximately 3-4" tall and shows its first set of true leaves.



Heirloom seeds are the gardeners choice for seed-saving from year-to-year. Learning to save seeds is easy and fun with these books. Before you harvest, consider which varieties you might want to save seeds from so that your harvesting practice includes plants chosen for seed saving. Be sure to check out our newest seed packs, available now from Heirloom Organics. The Super Food Garden is the most nutrient dense garden you can build and everything you need is right here in one pack. The Genesis Garden s a very popular Bible Garden collection. The Three Sisters Garden was the first example of companion planting in Native American culture. See all of our brand-new seed pack offerings in our store.

Harvesting Guide
HARVESTING
The leaves can be collected any time during the growing season with a snip. For best results, collect in mid morning once the dew has dissipated and before the intensity of the midday sun has

SAVING SEEDS
The seeds can be harvested late in the summer or early fall, once they have ripened and are completely dry. Dry seed head can be brittle, so collect over a bowl, basket, bag or other container to collect all seeds. Winnow through a fan or over a screen to separate seeds from chaff. Seeds can be collected in same manner as with harvesting. Store in a sealed container in a dry, cool location out of direct sunlight for optimum life.


You can find this variety in the following Seed Packs: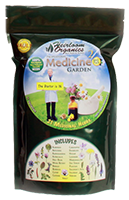 Click the packs below to see some of our other wonderful products