Balcony Survival Gardening Guide
The last few decades have seen unprecedented interest in farming and gardening techniques centered around self-sufficiency and survival. The organic foods movement, and other recent trends, reflect an increasing interest in the quality and growing conditions of the food we depend on. Whether motivated by necessity, or by a desire to create the highest quality possible food, many people are responding with creative, space-saving techniques to promote their own self-sufficiency.



Survival Gardening Guide
GROWING NOTES
The challenges to self-sufficiency are considerable. By one estimate, the average person requires more than 450 pounds of vegetables, 365 pounds of fruit, 250 pounds of grains, and 150 pounds of meat or similar source of protein. Such quantities present a significant challenge to the vast majority of growers. In addition to the physical resources necessary for such an endeavor, growing on such a scale requires considerable know-how. Becoming self-sufficient is likely to be a gradual process of careful observation and execution. Such a movement will likely require several years of diligent persistence, gradually taking on more and more along the path to independence.

Establishing self-sufficiency, whether in an urban or rural setting, is undoubtedly enhanced by cooperation and creativity. Forming relationships and trading with other growers is one way to maximize yields. From an efficiency perspective, it makes more sense to focus on just a few crops rather than the wide array encompassed in a typical diet. By focusing on fewer crops and establishing communication with other growers in your area, cross-pollination can also be minimized to help ensure varietal integrity from saved seed.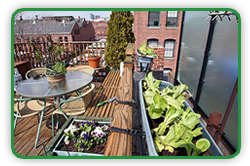 Due to their abundance of natural sunlight, balconies make a great location to grow fruits and vegetables. Perhaps the most important factor with this type of garden will be the direction of sunlight exposure. Eastward facing balconies will take in most of their light in the mornings. Light from the 'rising' sun from this direction will be of lower intensity than that from southern and southwestern, which corresponds to the sun reaching its peak and beginning its 'descent' in the afternoon and evening. Eastward facing balconies are best suited to greens, plants that may bolt to seed under warmer, sunnier conditions, and crops that have lower sunlight needs. Crops that can handle additional sunlight, such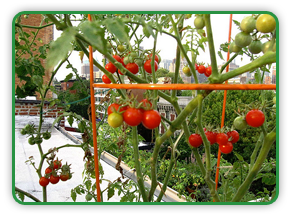 as beans and most root vegetables, can be grown with southward facing exposure.
Due to their limited ground space, balconies make and ideal setting for vertical growing. Window boxes, hanging baskets and other types of fixtures can be used to grow 'tumbling' cherry tomatoes, strawberries, cucumbers, and many types of beans. Most of these crops can also be grown in containers on the ground and will use railings or other supports as they climb.