How to Grow Cardamom | Guide to Growing Cardamom
| | |
| --- | --- |
| Overview | |

Cardamom is among the more popular aromatic herbs used today, with the seeds adding a uniquely sweet quality to many popular commercial beverages and other products. More traditionally, this botanical has been enjoyed in its native India for thousands of years in a wide array of dishes, deserts and teas. Cardamom was so revered in Scandinavia that following the opening of trade routes between the two regions, it quickly came to define the flavor of many traditional Nordic breads and sweets.

Growing herbs is easy and fun! Buy heirloom herb seeds here and start today! See our complete herb growing guide here. Did you know that many herbs can be sprouted or grown as micro-greens for high-nutrient super-foods? Try our sprouts packs here with the 3-Day Independence Sprouts Pack. Getting cabin fever? Can't wait to get to that Spring gardening? Grow indoors right now with the Complete Micro Greens Growing Kit or the Micro Greens Seed Pack. Have a high nutrient vegetable garden on your windowsill this week! Want to grow culinary and medicinal herbs? Click those links to buy seeds and this link to learn to grow them! It's that simple. Have you ever thought about growing your own tea garden? How about your own home-grown, tax-free tobacco? Heirloom Organics makes gardening easy.

| | |
| --- | --- |
| | Perennial (zones 10-13) |

| | |
| --- | --- |
| | 14 days at 75° F |

| | |
| --- | --- |
| | 2 years |

| | |
| --- | --- |
| | Rich, mildly acidic, loamy |

| | |
| --- | --- |
| | Steady, low intensity |

| | |
| --- | --- |
| | Fruit (pods) |

| | |
| --- | --- |
| | 7' apart |

| | |
| --- | --- |
| | 3 years |

Growing Guide
GROWING NOTES
Elettaria cardamomum is native to tropic regions, and can grow to heights of 10' or more, with the tall stems showing long, alternate leaves.

Cardamom is native to tropical regions, and should only be grown outdoors in hardiness zones 10-13, where minimum temperatures approximately 35 degrees or higher. It can be grown with care indoors or in a greeenhouse in zones 9 and lower, or overwintered carefully if grown in a large, deep container that can be moved indoors as needed.

Cardamom can reach heights of ten feet or more by the third year.

Prefers a rich, loamy, slightly acidic soil with a pH approximately 6.1-6.6. For best results, fertilize or amend soil with minerals phosphorus and potassium.

MAINTAINING
To sow, the smaller seeds should be sown in a light but rich starting medium buried shallowly beneath the surface of the soil (approximately 1/8")

Cardamom requires a steady supply of moisture and will not tolerate drought. If growing in a greenhouse, it should be kept humid and maintained carefully. Cardamom is not tolerant of cold, but should be kept in a location with many hours of partially occluded sunlight.



Heirloom seeds are the gardeners choice for seed-saving from year-to-year. Learning to save seeds is easy and fun with these books. Before you harvest, consider which varieties you might want to save seeds from so that your harvesting practice includes plants chosen for seed saving. Be sure to check out our newest seed packs, available now from Heirloom Organics. The Super Food Garden is the most nutrient dense garden you can build and everything you need is right here in one pack. The Genesis Garden s a very popular Bible Garden collection. The Three Sisters Garden was the first example of companion planting in Native American culture. See all of our brand-new seed pack offerings in our store.

Harvesting Guide
HARVESTING
Cardamom requires approximately 3 years of growth to produce capsules containing seeds. After the flowers mature, they will gradually dry out as capsule develops. These can be collected when capsules begin to turn green, and later dried on screens over the course of 6-7 days. Turn frequently.

SAVING SEEDS
The seeds can be collected once pods are dry and easy to break open. Place pods into a bowl, and carefully thresh by applying light pressure to break up dried seed pod. Separate seed from chaff by winnowing with a small fan, or by placing into a medium screen and gently shaking back and forth while lightly pressing extraneous matter through. Seeds can be collected in same manner as with harvesting. Store in a sealed container in a dry, cool location out of direct sunlight for optimum life.


You can find this variety in the following Seed Packs: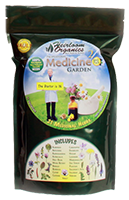 Click the packs below to see some of our other wonderful products