How to Grow Mullein | Guide to Growing Mullein
| | |
| --- | --- |
| Overview | |

The Greeks, Romans, British and Native Americans have all used Mullein to treat a number of respiratory conditions, from a mild cough to bronchitis and asthma. The dried stalks of Mullein have also been used as torches. The flowers can be used to create bright yellow or green dyes, which were used by the ancient Romans to color hair, according to "Healing Teas" by Marie Nadine Antol. Greek mythology holds that Ulysses carried Mullein to protect himself from the evil Circe. For these purposes the leaves can be smoked or used to prepare tea.

| | |
| --- | --- |
| | Biennial (zones 4-9) |

| | |
| --- | --- |
| | 7 to 21 days |

| | |
| --- | --- |
| | 2 years |

| | |
| --- | --- |
| | Sandy, well-drained soil |

| | |
| --- | --- |
| | Full sun |

| | |
| --- | --- |
| | Flower, Leaf |

| | |
| --- | --- |
| | 16" apart |

| | |
| --- | --- |
| | 180 days-15 months |

Growing Guide
GROWING NOTES
Greek Mullein can grow to a height of 5' or more, and by late summer the upper stalks will be covered with copious quantities of small, bright yellow flowers. Typically lives for 3-4 years.

Greek Mullein will grow best with full sun and dryish, sandy to rocky, well-drained soil. Water needs are low to moderate.

Greek Mullein can be direct sown in late summer or fall, started indoors in spring. If direct sowing in fall, cover seeds with a thin layer of soil (approx ⅜"), and if possible a layer of mulch.

If starting indoors, a 30 day period of cold stratification is recommended. Mix seeds with a moistened medium and place into plastic bag in refrigerator.

MAINTAINING
Check periodically to ensure that mixture remains moist, and if seeds start to germinate plant and leave in a warm location indoors such as a greenhouse. After stratification, sow seeds in flats, 2-3 per grouping aprroximately ⅜" below the surface of the soil. Keep moist and transplant outdoors once first true leaves are established.



Heirloom seeds are the gardeners choice for seed-saving from year-to-year. Learning to save seeds is easy and fun with these books. Before you harvest, consider which varieties you might want to save seeds from so that your harvesting practice includes plants chosen for seed saving. Be sure to check out our newest seed packs, available now from Heirloom Organics. The Super Food Garden is the most nutrient dense garden you can build and everything you need is right here in one pack. The Genesis Garden s a very popular Bible Garden collection. The Three Sisters Garden was the first example of companion planting in Native American culture. See all of our brand-new seed pack offerings in our store.

Harvesting Guide
HARVESTING
The flowers can be collected in late summer, once they have opened. The golden blossoms can be collected without any equipment, just wear gloves and bring a large bucket or sack to deposit flowers. To harvest, grab stalk (it will likely be at shoulder level or so), and carefully bend. Wearing gloves, pinch stalk with thumb and pointer finger below lowest blossoms and, proceeding towards the top of the plant, strip off all flowers into bucket or sack. The leaves can be collected just prior to blooming, during the first year, or once the plant is well-established in late summer of the first year.

SAVING SEEDS



NOTE Mullein causes allergic reactions in a small population.

You can find this variety in the following Seed Packs: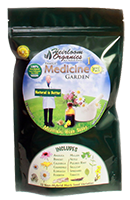 Click the packs below to see some of our other wonderful products