How to Grow Rose | Guide to Growing Rose
| | |
| --- | --- |
| Overview | |

The flavor Rose Hips produce a tea that is both soothing and loaded with natural Vitamin C. Rose hips have a tangy, fruity flavor similar to that of cranberries.

| | |
| --- | --- |
| | Perennial (zones 5-8) |

| | |
| --- | --- |
| | Varies |

| | |
| --- | --- |
| | 2 years |

| | |
| --- | --- |
| | Well-drained, rich, fertile |

| | |
| --- | --- |
| | Full sun |

| | |
| --- | --- |
| | Fruit; rose hips |

| | |
| --- | --- |
| | 4-6' apart |

| | |
| --- | --- |
| | 120 days |

Growing Guide
GROWING NOTES
Once established, the hardy Dog Rose bush will yield copious quantities of pale pink rose hips which are rich in vitamin C and can be used to make a flavorful tea. It will grow as a shrub to a height of approximately 5 feet or more, depending on available supports and other structures to climb off.

Dog Rose needs plenty of light; select a location that is not blocked by trees or other obstructions. For best results, transplant to a location with fertile but well-drained soil with a pH between 5.5-7.0.

Rose seeds can require persistence and patience to germinate. To 'activate' dormant seeds, a period of cold, moist stratification is required. An easy way to simulate the natural cycles that promote this activation is to place moistened seeds and a small amount or perlite into a ziploc bag, and place into refrigerator.

Check periodically to ensure that seeds remain moist as this is necessary for germination. With time, you will gradually begin to see seeds start to germinate. Remain patient, as this process can sometimes take 2-3 months or up to a year.

MAINTAINING
Once a seed has started to germinate, remove from bag and sow at a shallow depth (approx 1/4" or 3 times the thickness of the seed) in a small pot or other container. Keep indoors and gradually expose to sunlight as your start begins to grow.



Heirloom seeds are the gardeners choice for seed-saving from year-to-year. Learning to save seeds is easy and fun with these books. Before you harvest, consider which varieties you might want to save seeds from so that your harvesting practice includes plants chosen for seed saving. Be sure to check out our newest seed packs, available now from Heirloom Organics. The Super Food Garden is the most nutrient dense garden you can build and everything you need is right here in one pack. The Genesis Garden s a very popular Bible Garden collection. The Three Sisters Garden was the first example of companion planting in Native American culture. See all of our brand-new seed pack offerings in our store.

Harvesting Guide
HARVESTING
When growing rose for the hips to be used in tea or other preparations, do not dead-head your plants. The rose hips can only be produced by allowing flowers to mature and the seeds inside to develop, typically late summer to mid fall.

SAVING SEEDS
Seeds can be collected from rose hips by cutting them open and extracting the small white seeds. Rinse carefully to remove excess matter, set out for a few days to dry, and store in a sealed container (such as a small canning jar and store in a cool, dry place).


You can find this variety in the following Seed Packs: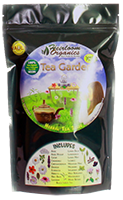 Click the packs below to see some of our other wonderful products