How to Grow Goji Berry | Guide to Growing Goji Berries
| | |
| --- | --- |
| Overview | |

Dating back about 5,000 years, the goji berry can grow to reach a height of about 6 feet, with berries ranging in color from pale yellow to deep red and tasting like a cross between a cranberry & a raisin. It is said that a Chinese man named Li Qing Yuen consumed wolfberries daily & lived to the age of 252 years.

| | |
| --- | --- |
| | Perennial (zones 5-9) |

| | |
| --- | --- |
| | 7-14 days |

| | |
| --- | --- |
| | 2 years |

| | |
| --- | --- |
| | Moist, well-drained |

| | |
| --- | --- |
| | Full sun |

| | |
| --- | --- |
| | Fruit |

| | |
| --- | --- |
| | 20-30' apart |

| | |
| --- | --- |
| | 2 years |

Growing Guide
GROWING NOTES
Goji berry can grow to more than 6' tall, showing attractive blue flower from midsummer into fall.

Goji Berry can be started indoors approximately 4-6 weeks prior to the last frost of the spring. Once established, it can be tolerant to temperatures down to -15 degrees F, but almost all seeds needs water and some heat to germinate. Sow shallowly to a depth of approximately ¼-1/2" deep, providing plenty of moisture while awaiting germination. Once the start begins to break through the surface of the soil, moderate water.

MAINTAINING
Goji berry requires lots of direct sun, but can be sensitive to excessive heat. If growing in higher zones, select a location with somewhat filtered light. Goji can be grown in many types of soil, including those with high clay or sand content.



Heirloom seeds are the gardeners choice for seed-saving from year-to-year. Learning to save seeds is easy and fun with these books. Before you harvest, consider which varieties you might want to save seeds from so that your harvesting practice includes plants chosen for seed saving. Be sure to check out our newest seed packs, available now from Heirloom Organics. The Super Food Garden is the most nutrient dense garden you can build and everything you need is right here in one pack. The Genesis Garden s a very popular Bible Garden collection. The Three Sisters Garden was the first example of companion planting in Native American culture. See all of our brand-new seed pack offerings in our store.

Harvesting Guide
HARVESTING
Flowers will begin to mature into edible berries late in summer, and continue late into the fall. Berries can be collected once they begin to dry out, and should be collected with care. Goji berries can be very sensitive to touch, and if possible, harvested with direct handling. Harvest by placing a large bowl, or even a blanket, under the plant. Shake branch lightly to release fruits from tree. If berries do not readily fall, wait several day before trying again, or apply minimal pressure to release from plant.

SAVING SEEDS
Goji seeds are very small and difficult to successfully extract from the fruit. However, the fruits themselves can be sown as normal seeds come sowing season. For optimum seed life, store in a sealed container in a cool location out of direct sunlight and with low humidity.


You can find this variety in the following Seed Packs: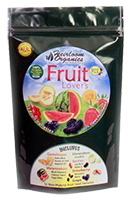 Click the packs below to see some of our other wonderful products