How to Grow Cumin | Guide to Growing Cumin
| | |
| --- | --- |
| Overview | |

Cultivated for millennia in North Africa, the Mediterranean and modern-day Iran, Cumin is now an essential flavor in the cuisines of Europe, India, Mexico and elsewhere. Seeds of this parsley family member have been recovered dating back more than 4000 years, and the seeds of this herbaceous annual are believed to be the second most popular spice in the world. The leaves can also be added to salad and impart a mild tangy flavor.

Growing herbs is easy and fun! Buy heirloom herb seeds here and start today! See our complete herb growing guide here. Did you know that many herbs can be sprouted or grown as micro-greens for high-nutrient super-foods? Try our sprouts packs here with the 3-Day Independence Sprouts Pack. Getting cabin fever? Can't wait to get to that Spring gardening? Grow indoors right now with the Complete Micro Greens Growing Kit or the Micro Greens Seed Pack. Have a high nutrient vegetable garden on your windowsill this week! Want to grow culinary and medicinal herbs? Click those links to buy seeds and this link to learn to grow them! It's that simple. Have you ever thought about growing your own tea garden? How about your own home-grown, tax-free tobacco? Heirloom Organics makes gardening easy.

| | |
| --- | --- |
| | Annual (zones 5-10) |

| | |
| --- | --- |
| | 7-14 days at 65° F |

| | |
| --- | --- |
| | 2 years |

| | |
| --- | --- |
| | Well-drained, rich |

| | |
| --- | --- |
| | Full sun |

| | |
| --- | --- |
| | Seed |

| | |
| --- | --- |
| | 4" apart |

| | |
| --- | --- |
| | 120 days |

Growing Guide
GROWING NOTES
Cumin will grow to a height of approximately 20" under ideal conditions, displaying white or pink flowers from midsummer onwards.

Cumin requires a considerable growing season, so for best results start indoors approximately 4 weeks prior to the last frost of the spring. Sow shallowly, approximately 1/4" beneath the surface of the soil. Keep moist and moderate water slightly once seeds start to germinate.

Cumin requires full sun and a long growing season. It tolerates a fairly wide range of soil types, but will do best with well-drained, fertile soil.

MAINTAINING
Transplant outdoors once minimal temperatures exceed 60 degrees F or higher.



Heirloom seeds are the gardeners choice for seed-saving from year-to-year. Learning to save seeds is easy and fun with these books. Before you harvest, consider which varieties you might want to save seeds from so that your harvesting practice includes plants chosen for seed saving. Be sure to check out our newest seed packs, available now from Heirloom Organics. The Super Food Garden is the most nutrient dense garden you can build and everything you need is right here in one pack. The Genesis Garden s a very popular Bible Garden collection. The Three Sisters Garden was the first example of companion planting in Native American culture. See all of our brand-new seed pack offerings in our store.

Harvesting Guide
HARVESTING
The seed heads can be collected in fall. If leaving on the plant to dry out, it may be helpful to protect the seed head with a plastic bag to prevent birds, squirrels and other wildlife from making off with your seeds. Otherwise collect once the flower has passed maturity and the petal have fallen off. Dry on a screen in a well ventilated location, turning over periodically.

SAVING SEEDS
Once dry the seed heads, can be threshed by hand over a bowl. Separate seed from chaff by winowing, or rolling over a screen. Store in a sealed container in a dry, cool location out of direct sunlight for optimum life.


You can find this variety in the following Seed Packs: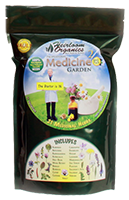 Click the packs below to see some of our other wonderful products