How to Grow Angelica | Guide to Growing Angelica
| | |
| --- | --- |
| Overview | |

Angelica has a long tradition of use as a general tonic herb for women, children, and the elderly. It is said to strengthen the heart and provide an antidote against general debility. According to legend, Angelica was revealed in a dream by an angel to cure the plague. All parts of the plant were believed effective against evil spirits, and Angelica was held in such esteem that it was called 'The Root of the Holy Ghost.' In America it was used by the Iroquois and other tribes in ceremonial medicine, and in traditional lore an infusion of smashed roots was used as wash to remove ghosts from the house.

| | |
| --- | --- |
| | Biennial (zones 4-9) |

| | |
| --- | --- |
| | 21-30 days |

| | |
| --- | --- |
| | 2 years |

| | |
| --- | --- |
| | well-drained, but moist, loamy soil |

| | |
| --- | --- |
| | partial shade to full sun |

| | |
| --- | --- |
| | Root, Leaf |

| | |
| --- | --- |
| | 12" to 24" apart |

| | |
| --- | --- |
| | 180 - 360 |

Growing Guide
GROWING NOTES


Angelica grows primarily upwards to a height of 3 feet, and will produce large umbels of yellow-green flowers.

Angelica is not difficult to germinate, but may take several weeks. It is best started in late summer or early fall, but can be started in early spring. To improve germination rates and seedling viability, stratification and indoor starting are recommended.

Prefers partial shade to full sun, and grows better with light, well-drained soil or moist loam. Angelica is adaptable to varying light levels, but grows best in partial shade in proximity to water.

MAINTAINING
Angelica archangelica is a light-dependant germinator, so lightly tamp seeds into top surface of soil (1/4" or less deep) or cover lightly with a thin layer of soil. Flat can be placed outdoors as the alternating cool and warm temperatures will help promote germination. Do not place outside if expecting a fall or spring freeze. Instead the seeds can be placed into a refrigerator overnights and removed in the mornings to simulate this temperature cycle. During this stratification period, make sure seeds receive adequate water to prevent dessication, but not so much as to promote fungus.

After this period of stratification, seed flats can be brought indoors for warmer temperature to promote germination. With heat and moisture, seeds should begin germinating within 10 days. When plants reach height of 3-4", they are ready to be transplanted outside. Space plants at least 12" apart to allow for plant growth, and allow 36" between rows.



Heirloom seeds are the gardeners choice for seed-saving from year-to-year. Learning to save seeds is easy and fun with these books. Before you harvest, consider which varieties you might want to save seeds from so that your harvesting practice includes plants chosen for seed saving. Be sure to check out our newest seed packs, available now from Heirloom Organics. The Super Food Garden is the most nutrient dense garden you can build and everything you need is right here in one pack. The Genesis Garden s a very popular Bible Garden collection. The Three Sisters Garden was the first example of companion planting in Native American culture. See all of our brand-new seed pack offerings in our store.

Harvesting Guide
HARVESTING
Nearly every part of this plant can be used medicinally. Leaves can be carefully collected in the first year, just be mindful not to over harvest or cause undue damage to the main stem. Root can be harvested late in the first year, or in spring the following year.

SAVING SEEDS



NOTE The fresh root of Angelica is not edible, said to be poisonous. Do not use while pregnant or breastfeeding without consulting your doctor.

You can find this variety in the following Seed Packs: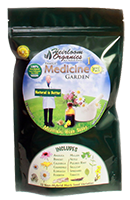 Click the packs below to see some of our other wonderful products