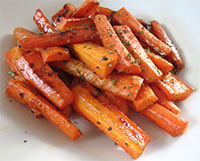 Ingredients:
3 lbs small organic carrots (with tops)
3 cups water
¼ teaspoon kosher salt
½ cup shelled (unsalted) pistachios
½ cup real butter
1/3 cup light brown sugar (packed)
1 ½ teaspoons fresh thyme
Directions:
Preheat oven to 350 F.
Trim carrot tops, leaving about ½" of the tops intact. Combine water and kosher salt in a skillet and bring to a boil. Add carrots and return to boiling. Reduce heat and allow carrots to simmer for about 10 minutes, or until carrots are tender. Drain in colander and set aside.
Place pistachios in a neat layer in a shallow baking pan. Bake in preheated oven for 8-10 minutes to lightly roast. Remove from oven and set aside.
Melt butter in skillet, adding brown sugar and thyme, and stirring over medium heat until brown sugar has melted into the butter. Add carrots. Bring to a boil and then reduce heat. Cook uncovered on medium-low heat. Stir frequently until carrots are well glazed (about 10 minutes).
Move carrots to a serving platter and sprinkle with toasted pistachios. Serve immediately. Recipe makes about 10-12 servings.