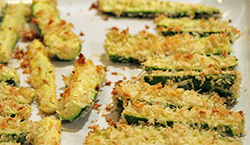 Is your garden producing more zucchini than you know what to do with?  Are you running out of creative new ideas on ways to feed it to your family? We are going to provide you with a quick, easy recipe so that you can whip up a tasty side dish that your whole family will enjoy!
Ingredients:
4 zucchini (quarter them, lengthwise)
½ cup grated Parmesan cheese
½ teaspoon dried basil
½ teaspoon dried thyme
½ teaspoon garlic powder
½ teaspoon dried oregano
Fresh ground black pepper, to taste
Himalayan Pink Salt, to taste
Dash of onion salt
Dash of garlic salt
2 tablespoons olive oil
2 tablespoons fresh chopped parsley
Directions
Preheat oven to 350 degrees Fahrenheit.
In a medium bowl, combine Parmesan, oregano, thyme, garlic powder, basil, Himalayan pink salt, freshly ground black pepper, garlic salt, and onion salt. Mix thoroughly.
Place your quartered zucchini onto an ungreased baking sheet. Drizzle olive oil over the zucchini quarters. Lightly coat each piece of zucchini with your Parmesan & seasoning mixture.
Place baking sheet in oven and bake about 15 minutes (until zucchini is tender). After zucchini is tender, broil for 2-3 minutes, until the zucchini turns crisp and golden brown.
Garnish with freshly chopped parsley, and serve immediately.
Makes about 4 servings.

Purchase Black Beauty Zucchini Seeds
14 g Seed Packet